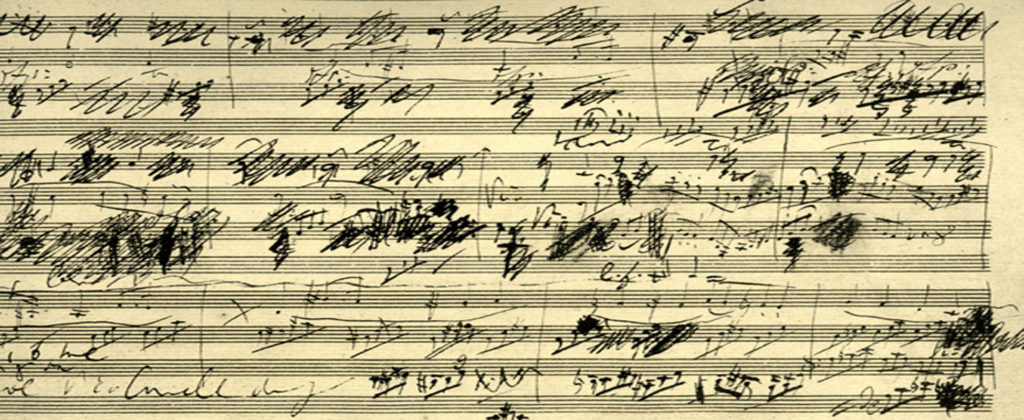 The nine symphonies of Beethoven are performed and recorded so much they're almost cliches. I doubt there's a symphony orchestra in the world that doesn't perform at least one Beethoven symphony every concert season. Each conductor finds his own interpretive path to take. There are the classic recordings of the entire cycle of nine symphonies by Claudio Abbado, Berlin Philharmoniker; George Szell, Cleveland Symphony, the ones I cut my Beethoven ears on; and Leonard Bernstein's New York Philharmonic and Vienna Philharmonic sets. Each has something to recommend it. But I still remember the night I was driving home. The 7th symphony was on the radio. Instead of the usual mind wandering and half listening, the performance grabbed my attention. Minute after minute I kept thinking, "Wow, this is Beethoven alive and thrashing!" I felt as if I were feeling Beethoven's emotions. I heard an energy and spirit that I had never heard before. I heard accents, articulations and dynamics that put a wicked topspin on his music. At the same time, it never went over the top  with Romanticism, as Bernstein's exaggerated rubato does. Nor did it underplay or round out the edges. It had the right balance of Classical manners and Romantic boisterousness. I could imagine Beethoven giving this a standing ovation. At the time, I had no idea why I felt this way. When I got home I sat in the car until the very end. I had to find out whose recording this was. I wrote down the conductor and orchestra, and later found the box set.
Gardiner did his homework researching the history and scouring the available scores. His efforts spring forth in every beat of every bar of the symphonies. Part of the reason he's been able to capture the heart & soul of Beethoven is, fortunately for us, that Beethoven was fanatical about expressing his intentions and precisely spelling out his instructions. Usually I'm not a stickler for following the composer's instructions to a tee, or trying to second guess their intentions. Usually composers aren't so specific. Although I won't argue Gardiner's interpretation is the only true interpretation of the nine symphonies. I am always open to idiosyncratic takes on any music. I strongly believe in putting one's own personal stamp on the performance. Still, there can be no dispute these recordings are the most historically authentic.
Beethoven's music is an emotional rollercoaster. If these extremes are not extracted with a precise measure of manic passion, and equally important, tempered sentiment, the performance won't get to the core of Beethoven. But then, who am I to say this is the way Beethoven heard his music? All I can be certain of is this, when I hear Beethoven, when I play Beethoven, the music speaks to me. It tells me how is should sound, and the Orchetre Revolutionaire et Romantique under the direction of John Eliot Gardiner are speaking the same language in these recordings. Their idioms and syntax fit the music, not only as it's written, but as the music wishes to communicate, as it needs to express itself.
Listen to Beethoven's use of syncopation in the 8th symphony, how he plays 3 against 2, that is, when the accent goes from on the beat ONE-two-three, TWO-two-three, to three accents over in two beat , ONE-two-THREE, two-TWO-three. He does this in both the 1st and 3rd movements, just as he uses the ta-ta-ta-DAH rhythm through the 5th as a unifying device in more than only the first movement.
(||) Rating — Music : A+ ║ Performance : A+ ║ Recording : A+ ║
 Orchestre Revolutionnaire et Romantique, John Eliot Gardiner, Beethoven 9 Symphonies, Archiv Produktion, 1994